Train Accident Lawyer in Queens, NY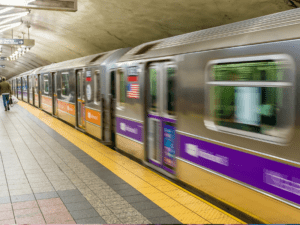 Millions of people ride trains in Queens and greater New York City every day. While most passengers arrive at their destination without incident, train accidents do happen.
The Metropolitan Transportation Authority (MTA) operates public transit in the New York City area including subway trains and commuter railroads. The MTA recorded 169 collisions between trains and people in 2020 — 63 of them fatal, according to published reports.  Forty-two people were struck and killed by subway trains during the first eight months of 2021.
Every rider on a train risks an injury or death in the event of a collision, derailment, fall, or violent assaults on trains and at Metro stations.
At The Tadchiev Law Firm, P.C., our personal injury lawyers are ready to help if you or a loved one has been injured in a train accident while traveling by subway or train. Our firm stands up for the rights of people who have been injured in preventable accidents. Our experienced Queens train accident attorneys are ready to help you seek compensation for your losses through a train accident lawsuit.
To get your free case review, call The Tadchiev Law Firm, P.C., today or contact us online. There are no fees for our legal services unless we recover money for you.
Common Types of Train Accidents
When train accidents occur, people are often seriously injured. Some sustain fatal injuries. People who suffer train accident injuries caused by a train operator's negligence and/or mechanical failure may be legally entitled to claim full compensation for their medical bills and other expenses related to their injuries.
There are several common types of train accidents. They include:
Train derailments
Train collisions
Railroad crossing accidents involving cars, trucks, or pedestrians
Falls caused by abrupt stops and starts
Slip and fall accidents on trains, train platforms, or in train stations
Runaway or rollaway equipment, with or without locomotives
Burns and smoke-inhalation injuries in fires
Exposure to toxic or hazardous material in spills during derailments or collisions.
Common Causes of Train Accidents
Investigations often show multiple reasons why a train accident occurred. Train accidents often involve some combination of human error, failure to follow safety standards, and equipment failure or track obstruction.
When a railroad accident causes multiple injuries, the National Transportation Safety Board (NTSB) sends an investigative team and takes over most aspects of the accident investigation. The Federal Railroad Administration (FRA) also investigates train accidents in which railroad employees or contractors are killed.
NTSB and FRA reports show that train accidents are often caused by:
Operator error, including:

Engineers and conductors distracted by cellphone use
Engineers and conductors impaired by sleepiness, drugs, and alcohol
Improper train speed, such as running too fast on a curve, steep grade, or when entering a station
Not braking in a timely manner when approaching a crossing, approaching other trains, or entering a station
Improper number of train cars which affects braking and rounding curves
Incorrect signaling and failing to signal or advise other train operators of intentions
Failure to ensure main track authority to proceed

Damaged or poorly designed tracks, roadbeds, bridges, switches, and track appliances. The weight of trains, weather, and other wear and tear damages railroad infrastructure. Lapsed maintenance can lead to problems that cause accidents.
Mechanical and electrical failures in:

Signals
Locomotives
Train cars
Brakes
Coupler and draft systems
Track components
Axles and journal bearings
Wheels
Doors

Maintenance lapses at train stations and platforms lead to slip and fall accidents. Previous claims have asserted that the MTA has done little over the years to keep riders safe on platforms.
Violence on trains or platforms, at train stations, or in parking lots. The MTA has a legal obligation to keep its premises safe and secure, such as through security patrols and proper lighting at night. Negligent security may make the organization liable for an assault victim's injuries.
Act Promptly to File Your Injury Claim After a Train Accident in Queens
It is best to contact an experienced personal injury lawyer as soon as possible after suffering a serious injury or the death of a loved one in a train accident. A train accident lawyer at The Tadchiev Law Firm, P.C., in Queens can move quickly to gather evidence about your injuries, ensure that proper notice is given and that your claim is filed in a timely manner.
Seeking compensation for injuries suffered in a train collision, derailment or other major railroad accident can be extremely complex. Train accident investigations are likely to be conducted by federal agencies as well as local authorities and may take a year or more. Determining the cause of a major accident requires specialized forensic knowledge to analyze data from multiple sources and reconstruct the accident.
Claims after a large-scale train accident will rest on the findings of government investigations and documentation of individuals' injuries and losses. After a major train accident that has injured multiple people, the court may combine legal claims. Slip and fall accidents, car accidents at crossings, and other personal injury claims involving subway trains, train stations, and railroads also require professional investigation and experienced legal representation.
Special filing deadlines apply when making claims against government agencies.
When a legal claim involves an agency, such as the MTA, you must file a "Notice of Claim" within 90 days. The lawsuit usually must be filed within one year and 90 days of the accident.
The Tadchiev Law Firm can investigate the accident and file all notices and claims for compensation after a train accident, including from local or federal government entities such as Amtrak for a Metro-North Railroad accident or third parties.
We can gather your medical records and consult with your doctors to compile a complete picture of your injuries and your pain and suffering. We will also gather receipts from your costs and losses connected to the accident and your injuries to establish the full amount of compensation you are due. In cases of disabling injury, we can work with life care planners and economic consultants to project the additional compensation you are due for future medical needs and lost earning capacity.
Throughout the process, our aim will be to help you seek the maximum amount of compensation available for the trauma you have unnecessarily been put through.
Recoverable Damages in a Railroad Accident Case
There may be multiple parties found liable for a train accident and compelled to compensate accident victims for their losses.
In any personal injury case, your claim must demonstrate your injuries and losses and the compensation that you are due. As your attorneys, we would present your demands for compensation for train accident-related expenses such as:
Medical expenses, including costs of emergency treatment, hospitalization, surgery, medication, medical equipment, physical therapy, vocational therapy, occupational therapy, counseling, travel expenses for medical appointments
Lost income, including lost wages, commissions, bonuses during recovery, and any future income loss likely due to reduced earning capacity
Personal property damaged, destroyed, or lost in the accident, such as a computer or a smartphone
Physical pain and suffering
Mental and emotional trauma, distress, anguish, anxiety, post-traumatic stress disorder (PTSD), or other psychological disorders
Scarring and disfigurement
Disabilities and permanent impairments
Loss of quality of life
Loss of consortium
Insurance companies have set amounts they offer for accident settlements based on past payments and actuarial statistics for recovery from injuries like yours. A personal injury attorney at The Tadchiev Law Firm will calculate the full extent of your losses and seek the full compensation available by law. Always speak to an attorney before accepting any settlement for a substantial insurance claim.
Contact a Queens Train Accident Attorney Today
If you have been injured in a train accident while traveling to or from Queens, The Tadchiev Law Firm, P.C., is ready to help you. We understand how complex a train accident claim is likely to be. Our train accident attorneys have the experience to develop a solid claim in keeping with the requirements for legal actions involving a government agency such as the MTA. We are ready to document your losses and guide you through the claims process after an injury on a subway train or railroad train in the New York City area.
After a New York train accident, make sure you get the personalized attention and skilled legal advocacy that you deserve. Contact The Tadchiev Law Firm, P.C., today for your free consultation.