Statute of Limitations to File a Car Accident Claim in New York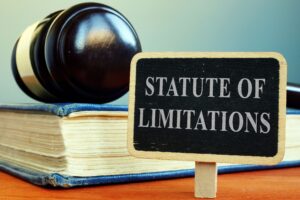 Understanding the statute of limitations for your case is essential if you have sustained injuries in a motor vehicle accident (MVA) in Queens. If you wait too long to speak to a car accident lawyer and file a lawsuit, you could lose your right to seek compensation, leaving you in a dire financial situation.
The best thing you can do to protect your rights after a car accident is to speak to a car accident attorney immediately. The Queens car accident lawyers at The Tadchiev Law Firm, P.C., understand the statute of limitations that applies to these cases and can protect your rights. We can handle all the legal work in your case and, if necessary, are fully prepared to take your case to court. Our personal injury attorneys know how important your case is to you and believe in aggressive advocacy for our clients.
Call us today or visit our contact page for a free consultation.
Why Are There Deadlines for Filing Car Accident Claims?
People injured in car crashes often ask why there are time limits to file a personal injury lawsuit. If someone injured you through their negligence, how is it fair that you have a limited window to take legal action? While it may not seem just to have a statute of limitations for MVA accident claims, there are four main reasons why these laws exist:
Preservation of evidence – By setting a time limit for filing a personal injury lawsuit, the statute of limitations compels plaintiffs to take legal action quickly while they can acquire essential evidence. If plaintiffs have unlimited time to file a personal injury suit, it can be challenging to reach a fair outcome in the case because critical evidence may have deteriorated or disappeared.
Keeping the courts from breaking down – New York's court system can only handle so many cases at a time in an effort to reach a just outcome and keep cases moving quickly. Having a statute of limitations keeps the courts from being overwhelmed.
Protecting defendants from petty lawsuits – The statute of limitations protects defendants from unreasonable lawsuits filed by plaintiffs with insubstantial evidence.
The Sixth Amendment – The Sixth Amendment to the Constitution gives everyone the right to a "speedy and public trial." Without a statute of limitations in place to limit the number of civil and criminal cases, people facing civil trials might have to wait for months or years before the courts hear their case.
New York's Car Accident Lawsuit Filing Deadlines
There are three key deadlines to remember if you are considering filing a lawsuit after a motor vehicle accident in New York. The first is the statute of limitations for personal injury lawsuits. In most cases, you have three years from the date of a car crash to file a personal injury lawsuit against the other driver or any other liable parties.
The second deadline to remember is the deadline to file a property damage lawsuit. If you did not sustain any injuries in the accident, you still have the right to pursue compensation for any damage to your vehicle or other personal property. New York law says you have three years from the date of an accident to file a property damage suit.
Finally, there's a separate deadline to file a wrongful death lawsuit if a family member died in a car accident caused by someone else. According to state law, you must file a wrongful death lawsuit within two years of a fatal car accident.
If you're worried about the statute of limitations in your motor vehicle accident case, speak to our knowledgeable attorneys right away. We can tell you how long you have to file a lawsuit and help you prepare your case.
Exceptions Where a Filing Deadline Could Be Extended or Shortened
While three years is the standard deadline to file a car accident lawsuit, there are circumstances where you might have additional time to file your claim. There are also cases where you have a shorter window to take action.
Some of the exceptions to the three-year statute of limitations for personal injury lawsuits include:
Cases involving injured children – If a child under age 18 sustains injuries in a car accident, the three-year countdown doesn't start until their 18th birthday. The legal term for this process is "tolling" the statute of limitations, and it gives victims additional time to gather evidence and file a personal injury suit.
Cases involving state or local government agencies – You need to act quickly if you intend to sue a local or state government agency after a car accident, as you must submit a notice of claim within 90 days of the crash. If you do not file this notice on time, you cannot recover any compensation from a government entity.
Cases involving out-of-state defendants – If the person who injured you in a car accident leaves New York for at least four months within the three-year window to file a lawsuit, you could receive an extension in your case. This extension would give you more time to file a lawsuit.
Certain medical malpractice cases – Most medical malpractice cases fall under the standard three-year window to file a personal injury lawsuit. However, not all medical malpractice injuries are immediately apparent, which can create problems when filing a lawsuit. According to the state court system, you must file a medical malpractice lawsuit within two years and six months of when the malpractice occurred or from the end of "continuous treatment" by whomever you intend to sue.
Risks of Filing Your Car Accident Claim at the Last Minute
The main issue that arises when plaintiffs wait too long to file a lawsuit is that the courts might dismiss the case. If you miss the deadline to file a personal injury suit, the courts will not hear your case, no matter how strong your evidence is or how severe your injuries are.
Given that most car accident cases end in insurance settlements, having a court case dismissed might not seem like a big deal. However, without the threat of a potential lawsuit hanging over them, insurance companies have little incentive to offer you a reasonable settlement. In fact, they can refuse to pay your claim, and you have no way to make them pay without the force of a court order. The bottom line is that without the threat of legal action to back up an insurance claim, you might not recover any compensation for your injuries.
Ways an Insurer Might Try to Block Your Case
Insurance companies use several common strategies to block cases or reduce a plaintiff's compensation, such as:
Saying the courts should dismiss your case because you failed to submit the proper paperwork or evidence on time
Saying your injuries do not qualify as "serious injuries" under New York's no-fault auto insurance laws
Asking you to give a recorded statement, then using your words against you to weaken your case or deny you compensation
Arguing you caused the accident, and so they should not have to compensate you for your injuries
Insurance companies have large legal teams at their disposal to fight your claim and deny you reasonable compensation after a crash. Working with an experienced car accident lawyer gives you a stronger chance of recovering the money you need to pay your medical bills and cover other losses.
How a Car Accident Lawyer Can Help with Your Case
If you have concerns about filing a car accident lawsuit on time and recovering the money you need after a collision, our attorneys can help by:
Explaining your legal options, your potential compensation, and the relevant legal issues in your case
Investigating the accident to gather evidence that will support your claim for compensation
Calling on experts to evaluate the evidence and provide additional testimony
Using medical records, receipts, and other evidence to document your physical, emotional, and financial losses from the accident
Filing an insurance claim promptly after a crash
Handling communication and settlement negotiations with the insurance company to protect your rights
Filing your case in court before the statute of limitations expires if the insurance company will not agree to a fair settlement
Get in Touch with Our Experienced Queens Car Accident Lawyers
The Queens car accident lawyers at The Tadchiev Law Firm, P.C., know how complicated these cases can be. We are prepared to aggressively stand up for your rights and fight for fair compensation for you. We take a personalized approach to each of our client's cases, so you'll know you're in good hands from the start.
Time is of the essence, so call us today or visit our contact page for a free initial consultation with our Queens car accident lawyers.